291 Damien the Blessed by Patrick Downes, arr. by Robert M. Mondoy, 1994 from "Lira no ka Po`e a ke Akua" Hymnbook [Guitar Edition] ed. Robert Mondoy [SJV: BH ]
1. Damien the blessed,* hope for the forsaken.
Comfort of the broken, servant of the poor;
From a distant country, to a land forgotten,
You took an outcast's cross to suffer and endure.
In a desolate place, filled with anguished cries,
You found Jesus our Brother, in distressing disguise.

Servant of the Father, servant of his people,
May we, like you, be gifts of God's abiding love.

2. Damien the blessed, you saw desolation,
You brought liberation, with your gentle touch.
Imitating Jesus, with your heart wide open,
You gave away your life to those you loved so much.
Like a shepherd you served, you sought souls who were lost,
With strong arms you embraced them, without counting the cost.

Servant of the Father, servant of his people,
May we, like you, be gifts of God's abiding love.

3. Damien the blessed, in a land of rainbows,
To a place of shadows they call Kalawao,
In your master's footsteps, bearing hope and comfort,
You brought new life beneath the Pali's furrowed brow.
You found solace and peace, with the Lord by your side,
And the source of all healing as your comfort and guide.

Servant of the Father, servant of his people,
May we, like you, be gifts of God's abiding love.
*2009 Alternate: Damien our brother
2009 Hawaiian: E Kāna Kamiano (St. Damien)




Go to other versions/scores/parts for Damien the Blessed

Click right for 1994
Damien Choir
recording

Click right for a
midi version; parts
are at bottom of page

Click right for a
melody-only
midi recording


















Soundclips: Listen in "ALL" || Midi, Mp3 & Choir parts as available (contact me if needed)

ALL 1994 Recordng

Soprano

Alto
Key:


midi mp3


Tenor

Bass
---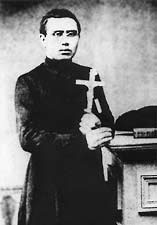 ©1994 Patrick Downes & Damien Beatification Committee. Arrangement by Mondoy Music All rights reserved. Used with permission.
If authorized*, you have permission to save this midi file to your desktop for your personal use. You may print this page anytime.

You can obtain the [notated] sheet music here: [Get Sheet Music] Recommended (but not required) donation of $1.00

Read "Reprint Policy (see Mondoy Music Web Main Index at the left or contact me below. :-) Mahalo!
Any reproduction (photocopying or download-printing) of this song's sheet music or song text requires you to read and follow follow the Reprint Policy of the publisher or copyright owner. Do contact them, and support them by purchasing their materials to help provide quality music for our churches.
---
L Sheet Music Service / Authorized use only for those who have already purchased the featured publication from Mondoy Music Mahalo!
Permission to use: Contact mondoymusic AT gmail DOT com || main website: www.mondoymusic.com Go to Mondoy Music Web Main Index (at the left) for more options




links to Information about Blessed Damien;
http://www.fatherdamien.com
http://www.nps.gov/archive/kala/docs/damien.htm
http://www.newadvent.org/cathen/04615a.htm
http://en.wikipedia.org/wiki/Father_Damien
http://www.answers.com/topic/father-damien
http://www.ewtn.com/library/MARY/DAMIEN.htm
http://www.wau.org/resources/saints/saintarchive/damien_molokai.html
http://www.hawaiiguide.com/origins/damien.htm
http://www.bookrags.com/Father_Damien
http://www.sscc.org/pages/x_Damien/damien_bio.htm
http://www.stampshows.com/fr-damien.html
http://www.gratefulness.org/giftpeople/damien_molokai.htm